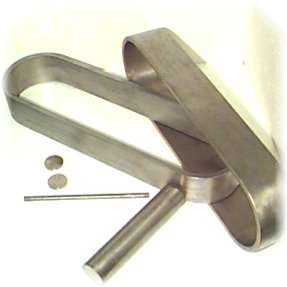 Santoku America, Inc. produces just about any size sputtering target of all the rare earth elements (except Pm). Our standard sizes run anywhere from 1" to 8" in diameter and from 2mm to 1/2" thick. We can also provide targets outside this range in addition to just about any size rectangular, annular, or oval target. Other shapes are available by request. All machined pieces are produced by casting oversized blanks, and machining down to required specifications. All machined shapes, as with all recast metals, will include tantalum (Ta) impurities as indicated below each elemental symbol below. (ND indicates Ta not detected, or <0.01%).

Additional Information:
Sputtering targets and machined shapes are 99.9% pure, excluding tantalum.
Smaller scandium targets are available without tantalum.
We also offer purities less than 99.9% for Sc, Ce, Pr, Nd, and Dy.
Sputtering targets are usually machined to tolerances of +0.010"/-0" on diameter, length or width, and +/-0.005" on thickness. Larger targets are also finished to a flatness within 0.015". We can accommodate tighter tolerances upon request.
La, Ce, Nd, Pr and Eu shapes are dip-sealed in plastic to prevent oxidation. All other metals are vacuum-sealed for protection.
Lead times needed for machined shapes are generally 3-4 weeks after receipt of order.
Products are shipped FOB Phoenix, AZ, USA. Freight charges are the customer's responsibility.
Terms are generally net 30 days with approved credit.