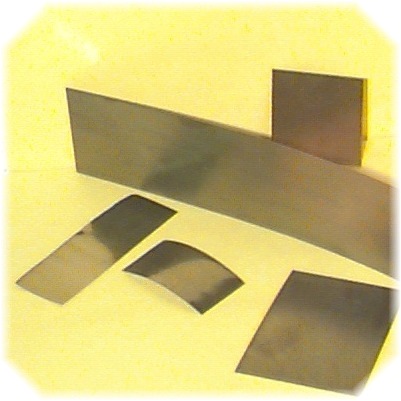 Santoku America, Inc. produces rolled foils and sheets in various thicknesses and sizes. Foils are produced from cast ingots, which contain tantalum (Ta) as indicated below each elemental symbol below. Scandium foils are produced from distilled scandium that does not contain tantalum. Some other metal foils (Dy, Tb, Ho, Er and Tm) can also be supplied tantalum-free. Thickness can range from 0.003" to approximately 2mm for all metals. Some metals can also be rolled down as thin as 0.001" (La, Ce, Nd, Pr, Eu and Yb are not). Piece sizes are limited to approximately 7" maximum width. Maximum lengths of about 20" can be obtained with a nominal thickness between about 0.005" and 0.020". Limits will be specified by customer service.

Additional Information:
All foils are a minimum 99.9% purity, excluding tantalum, except for Sc, as indicated above.
Scandium foil is always produced from 99.9% distilled metal; Ta is <0.01%.
Other metals foils (Tb, Dy, Ho, Er & Tm) can be produced from 99.9% distilled metal also, although longer lead times will apply.
Foils can also be supplied in disc (round) form.
All rare earth metal foils are shipped as dangerous goods (Flammable Solids, Inorganic, N.O.S.). Europium is also water-reactive.
La, Ce, Nd, Pr and Eu foils are always shipped under mineral oil. All other foils are sealed under argon in inner plastic bags in foil pouches.
All foils are subject to oxidation, although most only under elevated temperatures. Foils "fingerprint" easily, and pinholes may develop in thin foils as the metal ages. Foils will deteriorate in the presence of moisture.
Lead time for most foil orders is 3-4 weeks, although large orders or difficult sizes may increase lead time. Lead time is also affected by current orders placed.
Pricing of rare earth foils is dependent on both total surface area and thickness. Minimum order requirements apply to all metals and thicknesses.
Products are shipped FOB Phoenix, AZ, USA. Freight charges are the customer's responsibility.
Terms are generally net 30 days with approved credit.